Temeda detects engine failures and displays the Diagnostic Trouble Codes (DTC) and diagnostic information for both OBDII (Check Engine light in passenger vehicles) and SAE J1939 (medium to heavy duty vehicles and construction equipment). DTC features include DTC Alerts, DTC Reporting, and a Maintenance DTC page. Each of the features include Trouble Code lookup messages for over 7,500 standard fault codes.
Maintenance DTCs Page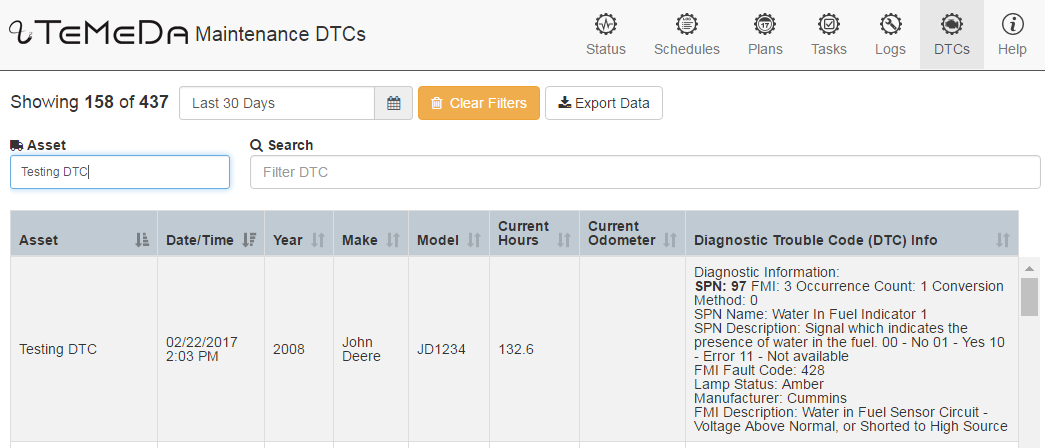 View a list of all DTC Events including Trouble Codes and Trouble Code Diagnostic Messages within the Temeda Maintenance module.
A view of all Diagnostic Trouble Codes – DTC
Display all DTC and count
Clear filters action button
Export data action button
Free text search bar
Filter by Date
Filter by Asset
Sortable column headers

Asset (hot link to Asset Detail Page)
Date/Time, Year, Make, Model, Current Hours, Current Odometer, Diagnostic Trouble Code (DTC) info.
DTCs in Alerts

The "Check Engine / Diagnostic (DTC)" Alert can be triggered upon Asset engine failure. Create the Alert to create system notifications sent via Email and/or SMS text message.
DTCs in Reports

Run a Report showing a historical view of all DTC Events, including Trouble Codes and Trouble Code Diagnostic Messages per Asset. Report can be run on-demand or they can be scheduled.