Each Asset is represented by an individual icon on the map. When you select an Asset, you will see a Pop-Up bubble with detailed information about the Asset.
Tabs
Asset Tab
The first tab of the Pop-Up displays Asset information. On the Asset tab, users will have quick access to some of the most common data fields about their devices. Due to the differences between customer settings and device options, here is a list of some of the pieces of information you will see:
The name of the Asset
An image of the Asset (if one has been uploaded)
Current location in latitude and longitude
Last reporting event type
Date and time of the last event
Current speed
Odometer value
Battery voltage
Engine hours
Fuel level percentage
You will also have quick access to the Asset's History Trail: the ability to follow and unfollow the Asset, a quick zoom out, access to the Asset's street view and a quick button to view the Asset's Dashboard.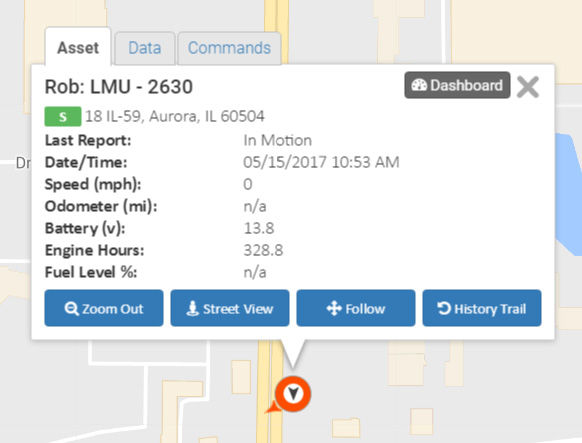 Data Tab
The second tab of the Pop-Up, Data, shows more in depth information. At the top of the Pop-Up, you will still see the Asset's name and have a button to access the Dashboard.
Within the Data section, depending on the type of the device select and your specific customer configuration, you will see a number of pieces of information including, but not limited to, the following:
Latitude and Longitude
Engine Hours
GPS Speed
Device Battery Percentage and Voltage
Vehicle Voltage
Device Temperature
Odometer
Fuel Economy
Bus Type
Device Serial Number
Device Type
Signal Strength
Firmware Version
IDD/IDA
Carrier
Satellites
Days since Device shipped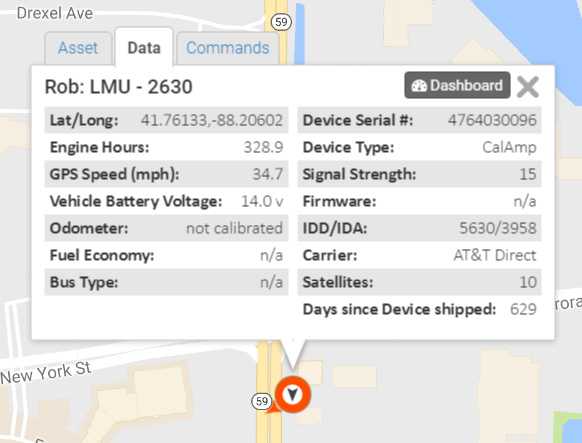 Commands Tab
The third tab of the Pop-Up is the Commands Tab. This tab is designed to give you quick access to tools that you can use in relation to the Asset itself. On the top you will see the Asset's name and have a button to access the Dashboard.
Some of the most common tools that will be available are listed below, with the same condition that depending on your device and/or customer settings, this list may vary:
Get Directions – to or from the Asset
Edit Asset – launches the 'Edit Asset' screen
Select Quick Report – allows you to run a report requiring no input from you, the user
Add Location – created a Location at the Asset's current position on the map
Find Nearest Assets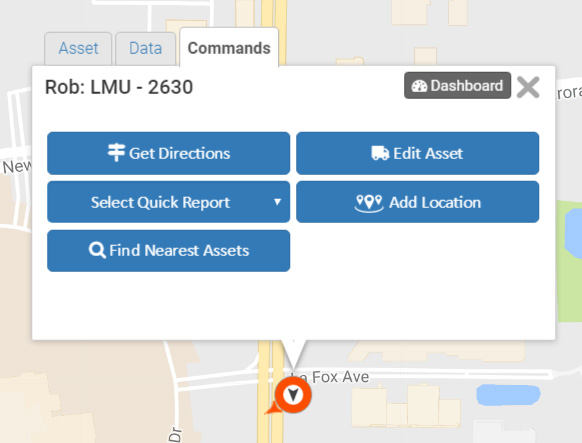 Customizing the Pop-up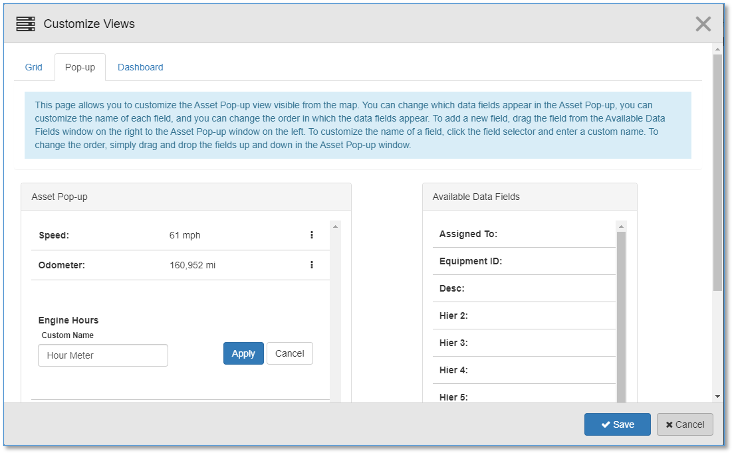 Reorder data
Left-click and drag any data field to its new location
Click Save
Add a new data field
Find a field in Available Data Fields
Left-click and drag any data field to its new location
Click Save
Edit the data field's name
Click the triple dot icon by the data field
Add the new name and click Apply
Click Save
Remove a data field
Left-click and drag any data field out of the Asset Pop-up column
Click Save