The Flexible Hierarchy feature allows users the ability to access multiple accounts within their organization's Hierarchy, while restricting access to other Hierarchy Accounts.
What is Account Hierarchy?
The Temeda app has support for customers to create their own Account Hierarchies up to 5 levels deep. This feature allows a Temeda 'parent' account to create 'child' customer accounts, and those child customer accounts can also have their own child accounts, and so on.
Please visit our Account Hierarchy Help page to learn more about Account Hierarchies.
How to Switch to Another Hierarchy Account
Click the "Customer" drop-down menu, located in the navigation under the company logo.
Select the account you wish to switch to. The page will reload with your account information.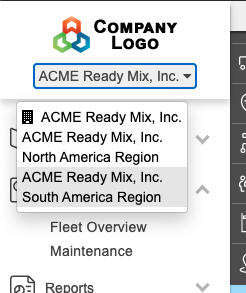 Note: Are you missing access to an account in your organization? Are you missing the drop-down menu underneath your name? Please contact an Admin from your organization to update your Security profile.
Managing a User's Security Profile
Please visit our Users Administration Help Page to learn how to set up and manage Flexible Hierarchy account access.