The Assets section allows you to create and manage the Assets on your account. When you first click on the Assets option, all of the existing Assets on your account will be displayed in a new window.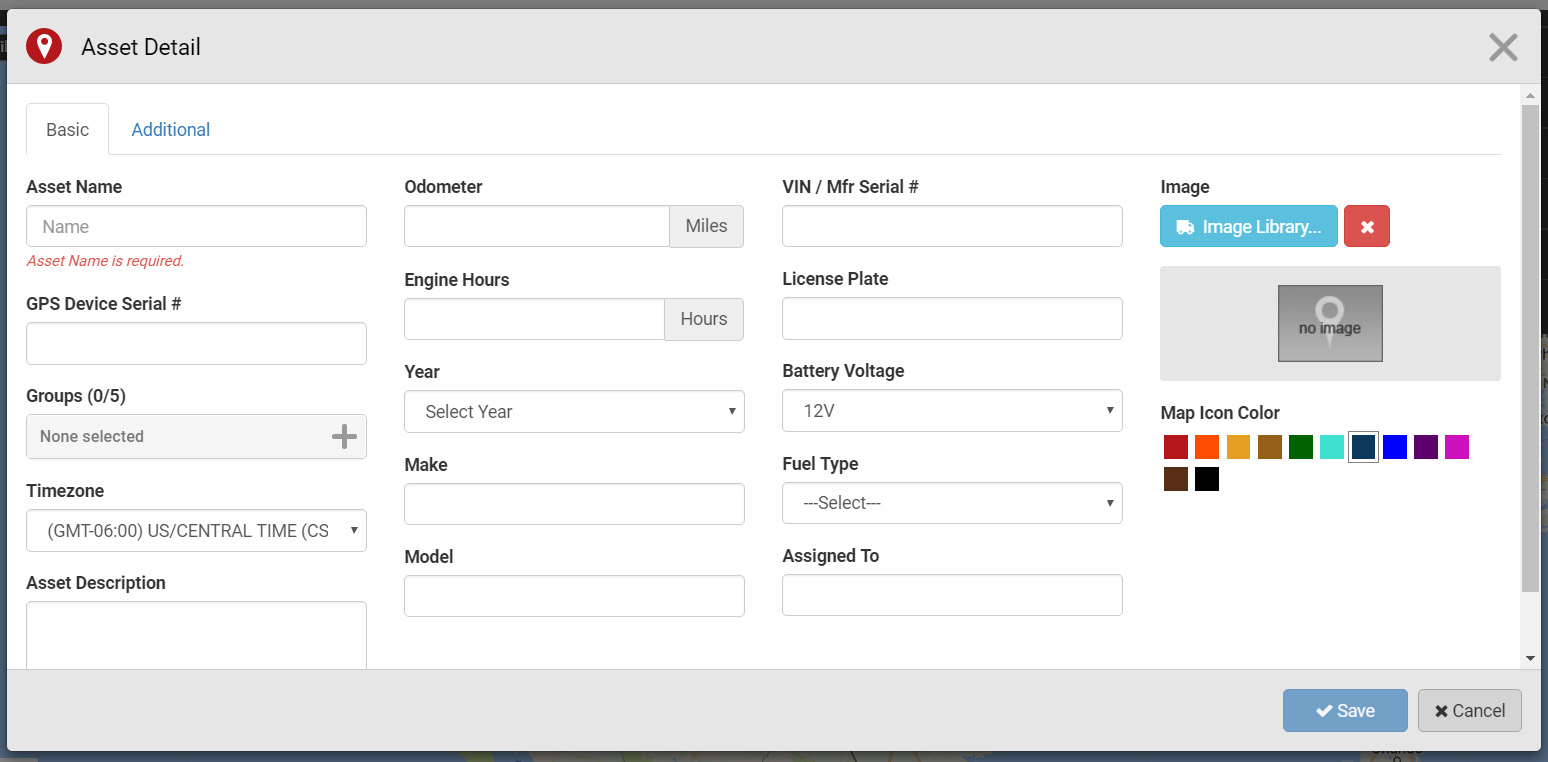 To create a new Asset, click on the Add Asset button at the top of the window.
Technically, the Asset Name is the only required field for adding a new Asset.  You will want to make sure that the correct GPS Device Serial Number is selected for the Asset you're adding as well.  At this point, you're welcome to set other information that you have about the device.  If you are missing any of this information, it can be added later.
After filling in the 'Basic' tab, you have access to three additional tabs:  Additional, Source Settings, and ELD.  Additional refers to additional information beyond what is on the Basic tab.  You can fill in as much or as little of this as you'd like.  Remember – the more you fill in now, the easier it will be for you to use and find information later.  The Source Settings tab refers to the manner in which the system will keep track of information like the Odometer Source, the Engine Hours Source, the Speed Source, and, in some cases, a fourth column called Bus Type.  The final tab is to enable ELD, or Electronic Logging Device, and at which point almost all of the fields in this tab are required.
Assets can be assigned to Groups during creation to help with Asset management. The TeMeDa reporting system can provide data about the devices that are connected by the Group assignments. Groups must be created prior to assigning them to Assets. For directions on creating Groups, see the Groups section in Help. To select the Groups to which an Asset is to be assigned, expand the Groups section by clicking the '+' symbol in the Groups section. Once the Groups section is open, simply check the boxes of the Groups you'd like to make the Asset a part of.
Each Asset Icon can have its color specified to help delineate it from other Assets on the map. This is especially important as a company grows the number of valuables, people, vehicles, and other assets that are deployed.
Select an Image from the Image Library to represent the Asset. There are many different types of Asset Images available, but if you'd like you can upload your own images to our system by going into 'Image Library' and clicking 'Upload Custom Image'.  You are responsible for making sure that you have the proper copyright rights to use this image – that is not TeMeDa's responsibility.
Lastly, as always, if you need additional Asset types added or need other help, please contact TeMeDa Customer Support with your request at customer.support@temeda.com.
You can Export Assets as comma-separated values by clicking the Export Data button on the Assets modal window.